Anvil Brewing; A Family Business Above and Beyond Craft Beer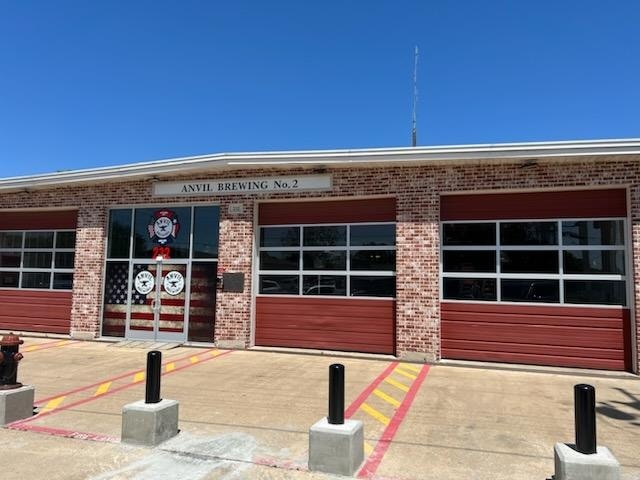 In 2023, Anvil Brewing officially opened its second location in Royse City. Since then, they've served up plenty of good food and brews to the Royse City community. However, excellent craft beer isn't the only thing that brings customers through the doors of the renovated firehouse.
A regional family business run by the Aldredge family, Anvil Brewing offers community events, a site for local fun, and even a doggie menu for the city's furry residents. Kristen Aldredge, a co-owner of Anvil Brewing, states that the original location was inspired by her husband's family's history in the region. "In 2016, the trend was moving towards breweries instead of wine bars, and my husband's family originally founded Pittsburg. We found the original Pilgrim's Pride Feed Store, and it was on the verge of being torn down. We restored that building ourselves– me, my husband, and my teenage kids."
While working at their first location in Pittsburg, a second location in Royse City became a popular request. Aldredge states, "We had customers come into our Pittsburg location and tell us that we should move into the Royse City Firehouse. My husband called the city planner, and he got us in touch with Royse City CDC. We partnered with them to open a second location." As a result of these efforts, Anvil Brewing began construction in 2022 and opened in May of 2023.
Anvil Brewing: A Space for Everyone in Royse City
Anvil Brewing is a business that serves its customers in multiple ways. By creating a fun-filled space and hosting unique events, Anvil Brewing goes above and beyond the average brewery. The brewery has two pool tables, cornhole, and live music, and offers services and special events tailored to the Royse City community. Aldredge shares, "We're doing a pet adoption event, and we'll do many more of those. Because we're in a firehouse, we do first-responder discounts for all first responders. We'll also be doing some special brews during the year where the proceeds will go to different organizations like the fire department. We'll also be starting our Stein Club. Mr. Baley, the previous fire chief of this firehouse, has donated around 75 antique steins– which will be the steins we use for our mug club."
In addition to curated events, the restaurant also has an inclusive menu that welcomes all diets. "We're not just a brewery, but a very large restaurant. Our food is extremely good, and we try to accommodate everyone. We have a gluten-free menu, vegetarian and vegan options. We have healthy options, and we have foods like fried chicken and waffles if you just want some comfort food. We've got it all."
Royse City is Invested in Community Businesses
Because Anvil Brewing is family-oriented, employees and customers share a unique bond with the business as well. Aldredge shares, "It's one thing to work with your family. At the end of the day you've created something, you've built something together; and your family expands when you own a restaurant. The people you work with, and even the customers – you get really close with those people, and they become your extended family. It really becomes a family affair, even if they aren't your blood relatives."
Royse City is known for being one of the friendliest towns in Texas, and businesses like Anvil Brewing are essential to the city's hometown atmosphere. Royse City CDC Director Charles Houk states, "Because Royse City is growing so rapidly, it is important to us to attract family-focused businesses to Main Street so that we can preserve a small town feel in that part of our city. With the welcoming atmosphere offering shopping, services, dining, and entertainment, you'd be hard-pressed to find a downtown as fun and down to earth in all of Texas." To learn more about Royse City's community or business opportunities, click here.