Find Your Perfect Career at the Royse City Springtime Job Fair on Tuesday, May 3rd!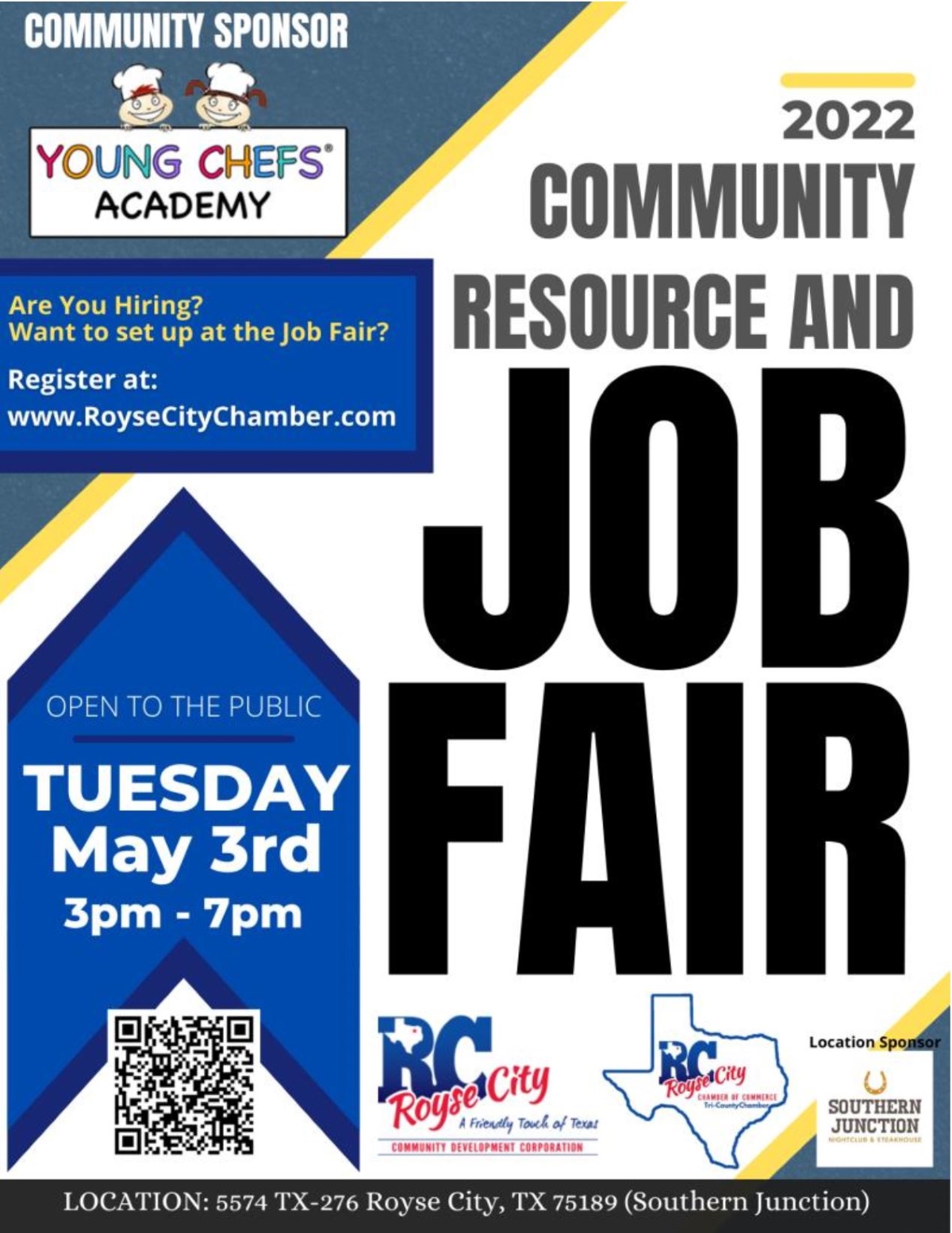 Whether you're looking for improved work-life balance, appealing compensation and benefits, or a better work environment and culture, you can find the career of your dreams in Royse City, Texas. The Royse City Chamber of Commerce and the Royse City Community Development Corporation have teamed up to bring you the Springtime Job Fair. This is a free event open to the public. Thanks go out to our community sponsor, Young Chefs Academy.
Date: Tuesday, May 3, 2022
Time: 3–7 p.m.
Where: 5574 TX 276 Royse City, TX, 75189
(Thank you to Southern Junction for being our location sponsor.)
Make sure to bring your updated resume ready to hand out because businesses from the Royse City area and the Tri-County will be on-site accepting applications and ready to hire.
If you have any questions, please contact the Royse City Chamber or the Royse City Community Development Corporation.
If you are a business interested in setting up a table, please register here.
The Job Fair's goal is to match job seekers with high-quality Royse City area job openings. It's designed to be a one-stop-for-success event for those looking to join or rejoin the workforce or even launch a new career.
It's a new reality that job-changing is up over 37 percent since 2020. Luckily the Texas job market is going strong. In January 2022, Texas saw gains of 29,000 total non-agricultural jobs, exceeding the previous record employment level set in December 2021 by reaching more than 13 million jobs, the Texas Workforce Commission reported in March.
The fact is, business is booming in Royse City. Located within the Dallas Metroplex, its business-friendly climate is coupled with a population that has doubled twice — and is expected to grow again by 31.9 percent from 2019 to 2024. This creates the perfect economic environment for a multitude of opportunities. Come take advantage of the Job Fair on Tuesday, May 3rd!
Finding Assistance in Royse City is Easy
Royse City Community Development Corporation - Discover how they customize their approach for each and every business. Contact the Royse City CDC Executive Director, Charles Houk, at (469) 652-0723 or cdcdirector@roysecity.com. Follow them on LinkedIn, Facebook, and Nextdoor.
Royse City Chamber of Commerce - The Royse City Chamber of Commerce serves as a bridge between the community and businesses benefiting the economy and quality of life. Contact the Chamber at (972) 636-5000 or info@roysecitychamber.com to see what membership can do for your business. Follow them on Facebook, Twitter, and Instagram.
Royse City Main Street Program - Discover how Main Street can help make your business vision a reality. Contact them at (972) 524-4846 or paula.morris@roysecity.com. Follow them on Facebook.